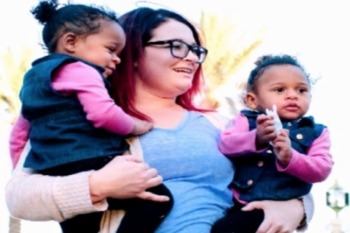 Not everyone has what it takes to be a parent. Evident by some individuals harming children in incredible ways. Saying that twin sisters Delilah and Caroline have had a rough start in life is a gross understatement. The two toddlers were admitted to the pediatric intensive care unit at Wolfson Children's Hospital in Jacksonville, FL, with extensive injuries resulting from abuse. Jess Hamm, a nurse, attending to one of the sisters was so taken by what she saw that she chose to give the little girls a new start via adoption.
"My heart was broken. I don't want to cry. She was just so lifeless, but she still held onto my finger," says Hamm. "I was like 'oh my gosh, I'm going to take her home."
If you desire to provide a child with a loving home, Triad Family Services can assist with the adoption process.
"
Nurse adopts severely abused twin girls after meeting them at hospital
"