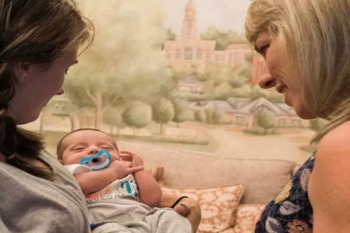 Lauren Koller and her husband Mel were approved as a "family in waiting" for adoption in 2015. Two years later, the phone rang, and it was their adoption agency. The news was good; a young expectant mother was considering the Kollers as candidates to adopt her baby. It turned out that Lauren and Mel were a perfect match, and four months later the gift of adoption became a dream come true.
"We waited, for two, long, emotional years. It was very hard, and we were beginning to wonder if there was a light at the end of the tunnel," Koller wrote. "We remained steadfast in our faith that God was going to provide."
If you are considering foster care or adoption, Triad Family Services can assist you with the process.
"
Birth Mom Lovingly Wipes Adoptive Mother's Tears Away as She Finally Takes New Baby Home
"