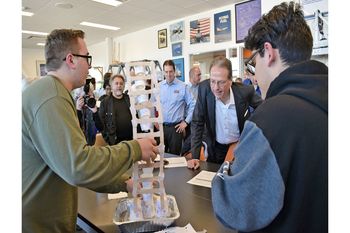 The Orangewood Foundation is a Santa Ana-based nonprofit that serves more than 2,000 foster youth. The organizations CEO, Chris Simonsen, says that about fifty percent of children in California's foster care system do not graduate from high school. The startling statistic led Simonsen to open the Samueli Academy to help foster teens have a brighter future. Samueli Academy is a charter high school for foster youth. The academy also caters to low-income teens in the area who face similar obstacles.
"It's very hard to get a job when you don't have a high school diploma, and then it's hard to find stable housing," he said. "So our board said, 'Let's try to figure out a way that we can impact that statistic in a positive way, to get more youth in foster care to graduate."
If you would like to become a foster parent, we can help guide you through the foster care process.
"
Samueli Academy identifies educational opportunities for foster care teens
"