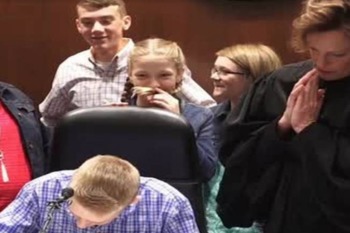 On Monday, March 12, Eric and Phyllis Watson gave the gift of adoption to four siblings on adoption day. Back in 2015, the Watson's became foster parents with the potential to adopt; the very next day they learned of four children in need of a home. Two and half years later, the adoption is now official. A heartwarming story!
"I order this packed courtroom to give the Watsons a standing ovation," said Judge Kathleen L. Sloan, who struggled to hold back tears as a new family came together.
Please share with Triad your remarkable stories of adoption.
"
A 'perfect' ending for four Kansas siblings seeking adoption brings judge to tears
"